The Jubilee Extends these Continuing thank-yous to important figures in Jubilee history.
Our fearless leader,
Jubilee President/Founder
Rod Wenz
passed away
on Wednesday, November 19, 2008
from heart complications.
The family is thankful
for the many expressions of sympathy
made by Rod's loving friends.
God bless you, Rod.  We love you.  We will miss you.
We are determined to continue what you have started
with the Jug Band Jubilee
In loving memory of the The Late Great

Mr. Fish

……..
Mr. Fish first went on stage and played the washtub bass in the late 60's for his high school vaudeville show. That was all it took to develop a lifelong passion for jug band music and entertaining. He was able to live this passion by playing jug band music for over 40+ years. In recent years, he was thrilled to have this unique form of music celebrated in his hometown of Louisville, KY with the National Jug Band Jubilee.
In the words of a fan, "Mr. Fish's love for music and entertaining turned audience members into instant fans, and he leaves behind a legion of grieving fans who became friends."
His fans miss him – his friends miss him – his family misses him.
Published in The Courier-Journal on November 15, 2009
DRURY, G. STEVEN "MR. FISH," 59, passed away
Saturday, November 14, 2009 with his loving wife Alison at his side.
He was born in Evansville, IN but lived in Louisville for most of his life. He and Alison owned the Hitching Post Saddle Shop in Middletown for 20 years, however Jug Band Music was his true passion. He entertained people across the United States and in Canada as "The Amazing Mr. Fish" with the Juggernaut Jug Band for more than 40 years. The music that meant so much to him lives on in the many recordings that the jug band produced.
He was preceded in death by his father, Bill Drury. He is survived by his wife of 39 years, Alison; daughter, Heather Leoncini (Michael); son, Matthew; mother, Dorothy; brother, John (Bonnie); and many nieces, nephews, cousins and fans around the world.
He also leaves behind his brothers in music – the other members of the Juggernaut Jug Band. Mr. Fish wanted to have his life celebrated by his friends and family.
Expressions of sympathy may be made to the National Jug Band Jubilee, 218 S. Keats Ave., Louisville, KY 40206. Mr. Fish was very involved in the planning of recent Jubilees and the preservation of Jug Band Music in Louisville.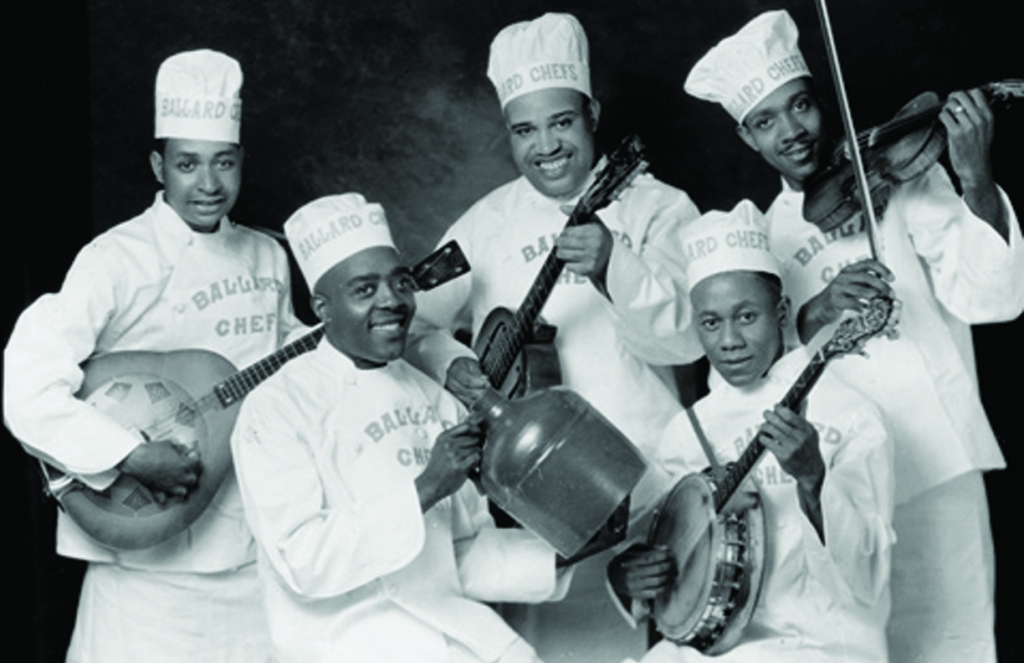 Earl McDonald


(1885-1949)

His music was remarkable.
His grave was unmarked until the 2009 Jug Band Jubilee.

Earl McDonald led the Ballard Chefs' weekly performances on Louisville's WHAS radio for three years (1929-1932). Public response exceeded expectations, enhancing the popularity of jug band music throughout the eastern half of the United States. Earl McDonald's voice and the rhythm of his jug blowing enlivened the recordings of more than 40 tunes with a half-dozen bands from 1924 to 1931.

In addition to his Original Louisville Jug Band, those bands included Louisville Jug Band, Sara Martin's Jug Band, Clifford's Louisville Jug Band, Old Southern Jug Band as well as the Dixieland Jug Blowers.

Generous contributors made the marking of this Legend's grave a reality. We Jubilantly thank:

Organizations

Chasin' Gus' Ghost ( the movie), Cincinnati Dancing Pigs, Jake Leg Stompers, Falk Audio, Gutbucket Jug Band (Australia), Juggernaut Jug Band, International Association of Jazz Record Collectors, Louisville Cemetery, National Jug Band Jubilee, Old Southern Jug Blowers (Japan), Searchin' the Roots Jug Band (Germany)

Individuals

Twenty Anonymous Jubilee Fans, Brandon Armstrong, Keith Baker, Tom Beck, Ron Bombardi, Chris Brandstatt, Eric Buhrer,Alison Drury, Steve Drury,  Anthony Dunn, Kellie Everett, Gary Falk, Jacob Fishman, Fred Glock, Wayne Hagen, Ralph S. Helm, Mike Hoerni, Vicki Hoerni, Ed Horning, Dieter Koerner, Todd Kwait, Arlo Leach, Shugo Maki, Cissy Musselman, Aviv Naamani, Ed Ohr, Marcia Provette, Dot Ridings, Sam Rorex, Bill Steber, Bill Street, Eric Sylvester, Charlee Tidrick, Gloria Wenz, Rod Wenz, Jim (Whip) Williams
Louisville native

Sara Martin

was one of the most popular classic blues singers of her time and her recordings with Louisville jug bands are thought to be the first jug band recordings ever made. 
Sara Martin (June 18, 1884 – May 24, 1955) was an American blues singer, in her time one of the most popular of the classic blues singers. She was billed as "The Famous Moanin' Mama" and "The Colored Sophie Tucker". Martin made many recordings, including a few under the names Margaret Johnson and Sally Roberts.
Martin was born in Louisville, Kentucky, United States and was singing on the African-American vaudeville circuit by 1915. She began a very successful recording career when she was signed by the Okeh label in 1922. Through the 1920s she toured and recorded with such performers as Fats Waller, Clarence Williams, King Oliver, and Sylvester Weaver. She was among the most-recorded of the classic blues singers.
On stage she was noted for an especially dramatic performing style and for her lavish costumes, which she changed two or three times per show.
Martin's stage work in the late 1920s took her to New York, Detroit, and Pittsburgh, and to Cuba, Jamaica, and Puerto Rico. She made one film appearance, in Hello Bill with Bill "Bojangles" Robinson in 1929.[8] Her last major stage appearance was in Darktown Scandals Review in 1930. She performed with Thomas A. Dorsey as a gospel singer in 1932, after which she worked outside the music industry, running a nursing home in Louisville. Sara Martin died in Louisville of a stroke in May 1955.
In 2014, the National Jug Band Jubilee and the Kentuckiana Blues Society came together to honor Sara Martin by raising funds to get her a much overdue headstone. That headstone was unveiled on September 19, 2014 in Louisville Cemetery
Generous contributors and made the marking of this Legend's grave a reality. We Jubilantly thank the Kentuckiana Blues Society for their partnership, which allowed this momentous occasion to occur.
Also thanks to these individuals for their time
Heather Leoncini, President – National Jug Band Jubilee, Keith Clements, Founding board member – Kentuckiana Blues Society, Ruby Hyde, Director – Smoketown Pride & Heritage, Pen Bogert, The Jake Leg Stompers – Murfreesboro, TN, Maria Muldaur , Michael L Jones