---
2018 Artists
---
Seattle songsters Ben Hunter & Joe Seamons give life to voices that have long been silenced in American culture. Their award-winning performances are highlighted by story-telling that, rather than bringing the past to life, vividly shows how the past still lives in the present.
Through their songs, audiences witness current issues crop up again and again in folk songs, dance tunes, acoustic blues, and prison ballads. Ben & Joe bounce from fiddle & banjo breakdowns to a cappella field hollers, early jazz to gospel songs featuring Piedmont guitar style and rattlin bones.
With the same versatility that won them the International Blues Challenge in 2016, and allowed them to record with National Heritage Fellow Phil Wiggins, the duo celebrates the ways Americans have triumphed over oppression through the vitality of their art. Audiences walk away from Ben & Joe's concerts and workshops inspired to learn more of their own history, and engage more deeply with their communities.
---
Formed in New Orleans as a collective of several street performing groups, Frog & Henry perform and record old dance and jazz music from the early 1900's on brass and string instruments, with several singers and vocal harmony. Most of our repertoire was obtained by digging up forgotten songs from the dawn of recorded music, in the form of early dance tunes, and from even earlier 19thc sheet music.
We've borrowed the phrase 'string and brass band' from the descriptions of the earliest dance and jazz bands. And in that tradition we feature violin and mandolin-banjo as melody instruments along with clarinet and baritone saxophone.
Some of our influences: The Dixieland Jug Blowers, Frenchy's Stringband, Lionel Belasco, Leecan & Cooksey, Sara Martin, King Oliver, Johnny Dodds and others
---
Hubby Jenkins is a talented multi-instrumentalist who endeavors to share his love and knowledge of old-time American music. Born and raised in Brooklyn he delved into his Southern roots, following the thread of African American history that wove itself through country blues, ragtime, fiddle and banjo, and traditional jazz. Hubby got his higher musical education started as a busker. He developed his guitar and vocal craft on the sidewalks and subway platforms of New York City, performing material by those venerable artists whose work he was quickly absorbing. An ambitiously itinerant musician, he took his show on the road, playing the streets, coffee shops, bars, and house parties of cities around the U.S.
After years of busking around the country and making a name for himself, Hubby became acquainted with the Carolina Chocolate Drops. Since 2010 he has been an integral part of the Grammy award winning Carolina Chocolate Drops and continues to make solo performances.
---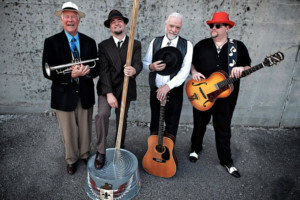 The Juggernaut Jug Band is celebrating 50 years of continuous entertainment from the birthplace of jug band music, Louisville, Kentucky.
What do you get when you blend jazz, blues, and ragtime with washboards, washtubs, kazoos, jugs and various other sundry hardware? Nothing less than a strange concoction called the Juggernaut Jug Band. Based out of Louisville, Kentucky, the Juggernauts have proudly kept early twentieth century jug music alive and well since 1965, when four high school lads discovered jug band music made them feel just fine!
---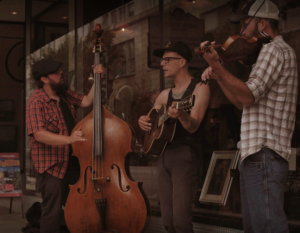 Vaden Landers and The Do Rights are an Asheville, NC Country/Blues Group. The Do Rights formed in late summer of 2017, and has been a busy bunch since; playing shows, busking and weekend tours around the south. The Do Rights play a variety of American music, like Blues, Ragtime, Jazz, Western Swing, Country and Old-time Appalachian. The group has worked on a lot of original music written by Vaden Landers. Taking old styles blending them, into a classic sound you won't forget!
---
The Cincinnati Dancing Pigs are Cincinnati's premier Jug Band. They have been around since the early years of the Rolling Stones, have lasted longer than the Beatles and have more living members than the Grateful Dead. In the Cincinnati Enquirer they were once compared to the Julliard String Quartet, although not favorably. They have played at every Tall Stacks, at the Cincinnati Bicentennial Celebration, for the runners in the Flying Pig Marathon, many times in the summer concert series at the amphitheater in Eden Park, for the Art Museum, for a sit down dinner on the observation deck of the Carew Tower, and in many bars, back yards and living rooms throughout the area. From country club weddings to pig roasts to 4th of July parties, they have shamelessly wound up audiences at every variety of event.
---

Chris Rodrigues is a one-man band and multi-instrumentalist from the Asheville NC area.  Growing up learning traditional songs from his family, he has carved out his own unique blues- Appalachian style.  Abby the Spoon Lady is a folk percussionist, storyteller, and free speech activist.  After riding the rails for 8 years, she now lives in Asheville NC and is a full-time musician and street performer.  Together the two create a dynamic duo, with very complex rhythms.  Today they both enjoy not only playing original songs but also reworking and bringing new life to classic gospel songs.
---
Originally from San Francisco, now a Louisville resident, Rick Quisol aka "The Dimestore Dandy" is the front man and vocalist of the Hot Jazz combo, Derby City Dandies. Once the leader of a group awarded "Best Band For The New Depression" by SF Gate, he continues the tradition of playing lively and happy music that is a tonic for tough times. This uke-driven band, consisting of stand-up bass, guitar, violin and sax, specializes in a repertoire of classic and obscure gems from the 1920s-30s. Prohibition era tunes like "I Wish I Could Shimmy Like Sister Kate"; "Sadie Green Vamp Of New Orleans" and "I Got Ants In My Pants" are sure to please by putting a pep in your step and a smile on your face!
---