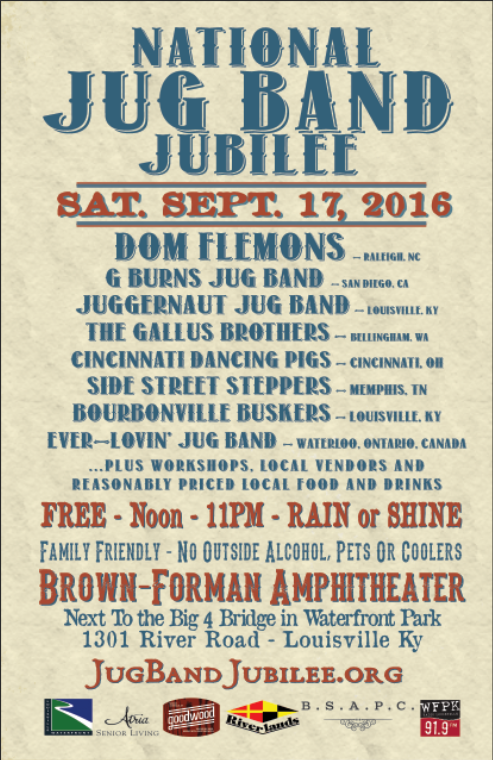 2016 Schedule of Events
4PM

 – WORKSHOP
---
2016 Artists
---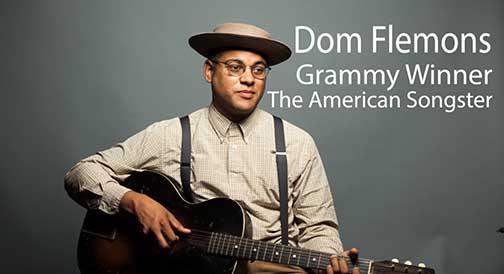 Dom Flemons
(Raleigh, NC)
Dom Flemons is the "American Songster," pulling from traditions of old-time folk music to create new sounds. Having performed music professionally since 2005, he has played live for over one million people just within the past three years. As part of the Carolina Chocolate Drops, which he co-founded with Rhiannon Giddens and Justin Robinson, he has played at a variety of festivals spanning from the Newport Folk Festival to Bonnaroo, in addition to renowned venues such as the Grand Ole Opry.
A multi-instrumentalist, Dom plays banjo, guitar, harmonica, fife, bones, bass drum, snare drum, and quills, in addition to singing. He says that he incorporates his background in percussion to his banjo playing. Dom's banjo repertoire includes not only clawhammer but also tenor and three-finger styles of playing. He first picked up the instrument when he borrowed a five-string banjo from a friend who had removed the instrument's fifth string. As a founding member of the Carolina Chocolate Drops, an African-American string band, Dom was able to explore his interest in bringing traditional music to new audiences. The band won a GRAMMY for its 2011 album Genuine Negro Jig and was nominated for its most recent album, Leaving Eden, in 2012.
---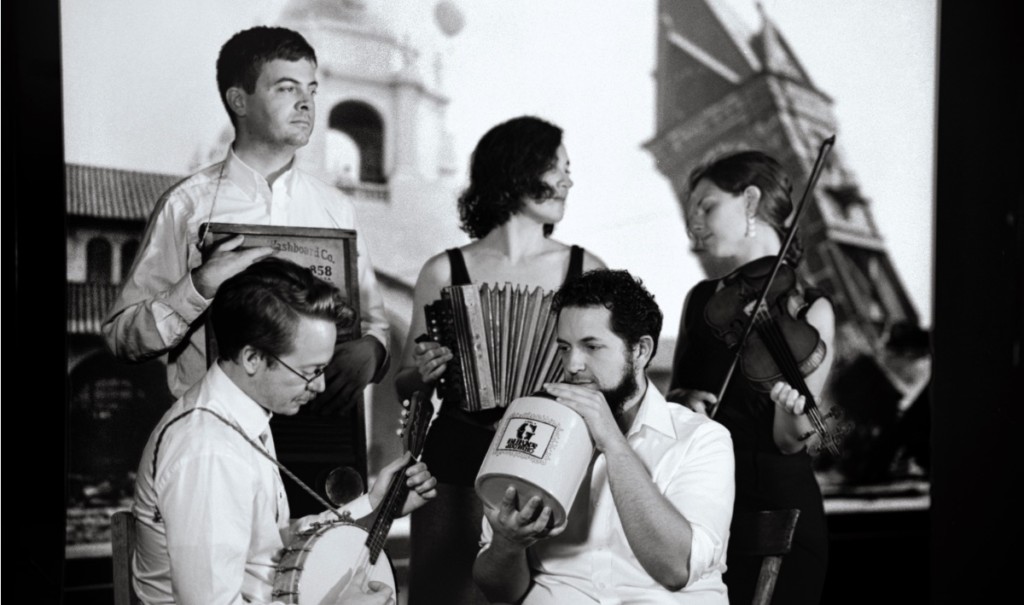 G Burns Jug Band
(San Diego CA)
The G Burns Jug Band plays old American music with an intensity and authenticity rarely heard today: urban blues, mountain fiddle, and popular music of the nineteen-twenties and thirties. Based in San Diego, G Burns is led by multi-instrumentalist and native Kentuckian Clinton Davis, who grew up hearing jug band music in its birthplace of Louisville.
Since forming in 2012, the G Burns Jug Band has garnered praise from the national roots community, and an enthusiastic following on the West Coast. In 2013, the band launched their residency at San Diego's Black Cat Bar, held the first Saturday of every month. They have self-released two albums, including their most recent, The Southern Pacific & The Santa Fe, which earned them a San Diego Music Award . The album also received coverage from renowned roots music publication No Depression, who called their work "a joyous and soulful restoration of one of the lost treasures of American musical tradition." They have shared the stage with roots luminaries including Jim Kweskin, Del McCoury, and Beausoleil avec Michael Ducet.
Clinton Davis, guitar, plectrum banjo, banjolin, piano, harmonica, vocals
Batya MacAdam-Somer, fiddle, vocals
Tim McNalley, guitar, vocals
Jonathan Piper, jug, tuba
Meghann Welsh, accordion, tenor banjo, vocals
---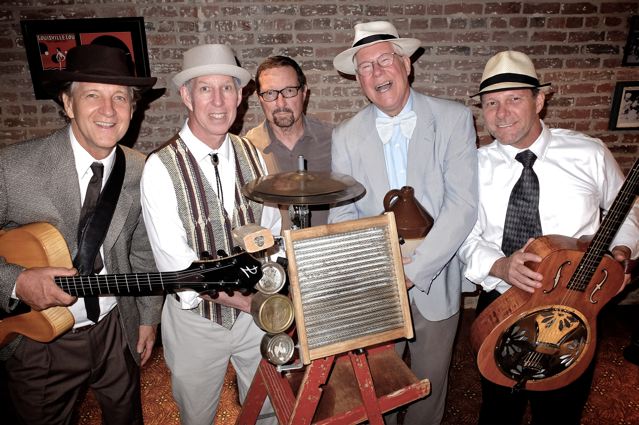 Juggernaut Jug Band 
(Louisville, KY)
The Juggernaut Jug Band is celebrating 50 years of continuous entertainment from the birthplace of jug band music, Louisville, Kentucky.
The band was formed in 1965 in Anchorage, Ky.  when the sixties folk craze was in full swing. John Fish, (not to be confused with Mister Fish – two different guys) who lived in Anchorage founded the band and came up with the name.  Fred Glock, my brother Steve Helm and shortly after the first rehearsal I attended, Don Oswald was the first version of the band. Don authored "Waitin' for that Chicken Pie to Cool", "All night Drive-In Show" and "Cowboy" among other tunes that are still a part of the band's repertiore today. When brother Steve and Fred Glock went off to school, we added Steve "Mister Fish" Drury and later Mark Ohlson, ("Something Elemental Has Gone Wrong" and "Wash Your Face and Leave") a great song writer in his own right. We learned mostly Memphis jug tunes from Jim Kweskin and the Jug Band on the Vangaurd label before we discovered the rich heritage of Louisville jug bands. The band is still rolling. It survives because of the love, the fun and enthusiasm it still has for jug band music.
---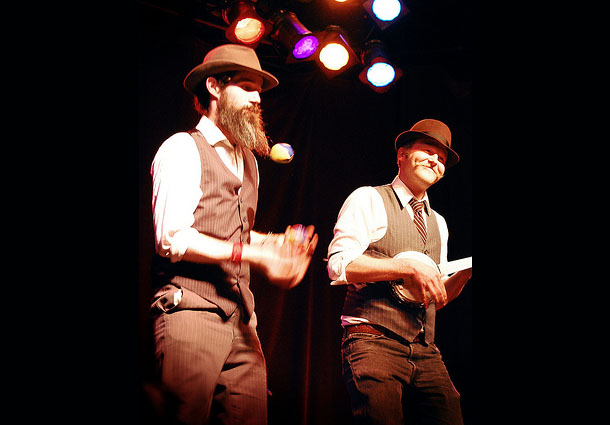 The Gallus Brothers
(Bellingham, WA)
The Gallus Brothers are a country blues duo based in Bellingham,WA. Initially brought about through a series of chance encounters involving pancakes, spoons and a guitar, the brothers have now spent the last decade performing and making music together. Generally you will find Devin Champlin fingerpicking his heart out on the guitar while Lucas Hicks holds down rhythm with a suitcase full of tomfoolery. They are both known to sing, bust down some fiddle/banjo duets, and occasionally jump on a table, stand on each other and juggle while playing a good ol' tune from way back.
---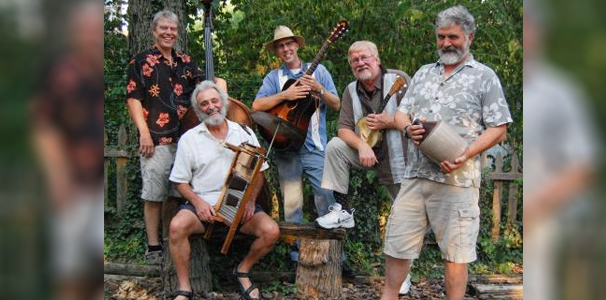 Cincinnati Dancing Pigs 
(Cincinnati, OH)
The Cincinnati Dancing Pigs are Cincinnati's premier Jug Band. They have been around since the early years of the Rolling Stones, have lasted longer than the Beatles and have more living members than the Grateful Dead. In the Cincinnati Enquirer they were once compared to the Julliard String Quartet, although not favorably. They have played at every Tall Stacks, at the Cincinnati Bicentennial Celebration, for the runners in the Flying Pig Marathon, many times in the summer concert series at the amphitheater in Eden Park, for the Art Museum, for a sit down dinner on the observation deck of the Carew Tower, and in many bars, back yards and living rooms throughout the area. From country club weddings to pig roasts to 4th of July parties, they have shamelessly wound up audiences at every variety of event.
---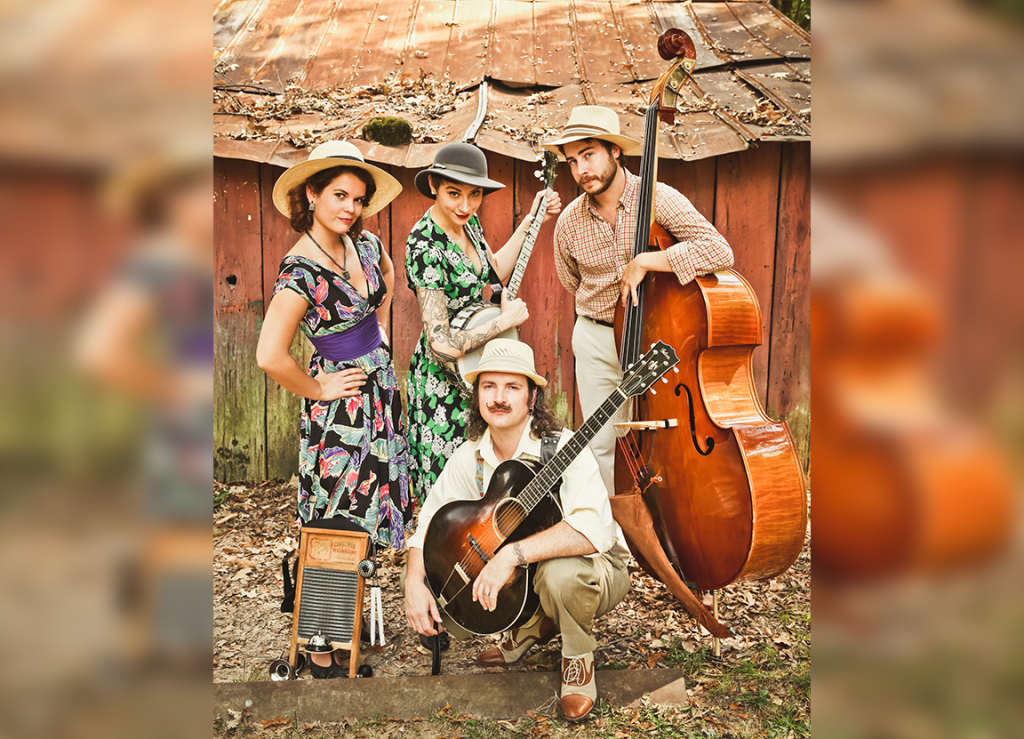 Side Street Steppers
(Memphis, TN)
The Side Street Steppers are a page from Americas past, playing rare and popular music from the 1920s and 30s. Dubbed the Golden Age of Gramophone Recording, the two decades between 1920 and World War II saw the rise of jazz and the birth of the blues, the demise of ragtime and the emergence of hillbilly music that would become known through the world as country music. The Side Street Steppers present a pastiche of this transformation of the American musical landscape, performing on vintage and homemade instruments. Get ready for plenty of hip-shaking, foot stompin', caterwauling and croonin'.
---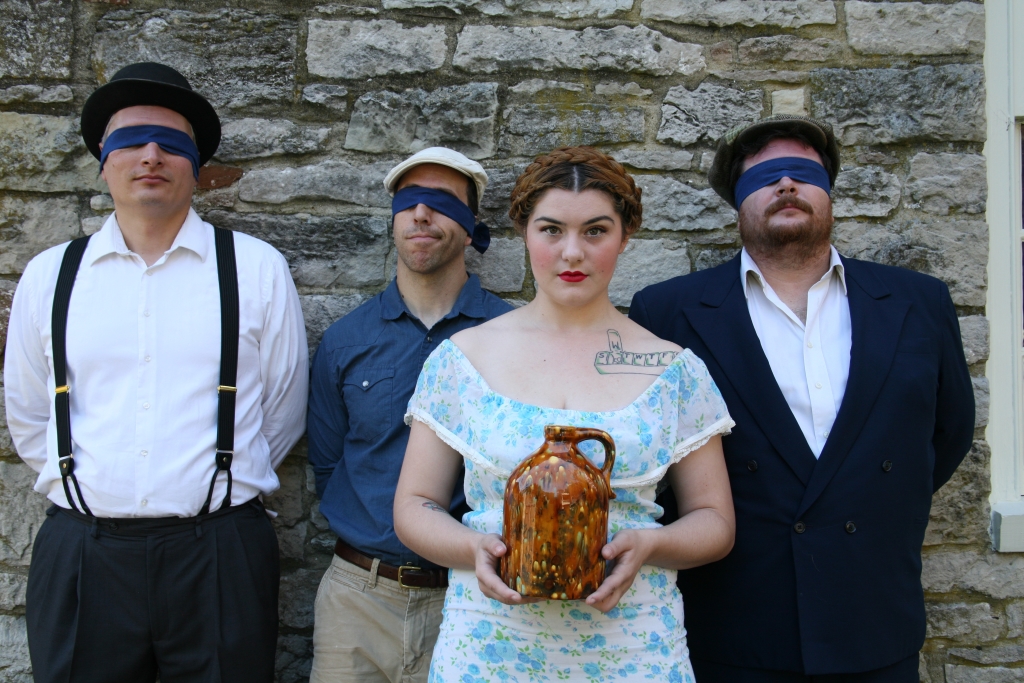 Bourbonville Buskers
(Louisville, KY)
It used to be when you went to pick up your bourbon you brought along your jug.  Turns out those jugs were good for more than just holding your liquor. A jug "with music in it" made a mighty fine sound to build a band around – the Louisville jug band sound. The music of the Bourbonville Buskers harkens back to the day when musicians around the city took to the streets to play some tunes, with their empty liquor jugs in hand and mischief on their minds. From our friendly township of Bourbonville we continue this tradition of song and tomfoolery. The Bourbonville Buskers small batch sound is crafted with a bill of jazz, blues and old-timey music, with overtones of humor and innuendo that precede a sweet, yet peppery kick.
---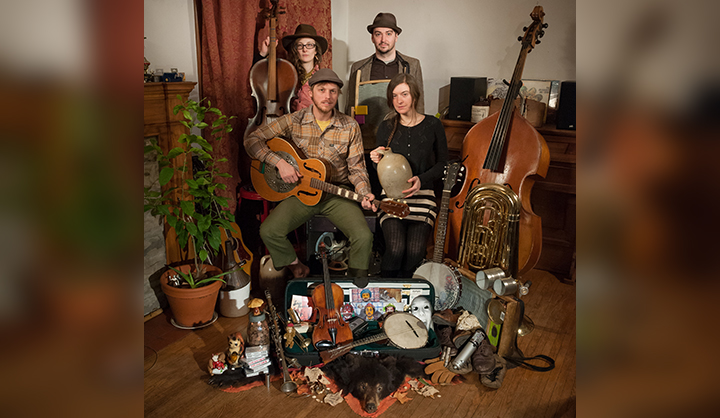 Ever-Lovin' Jug Band
(Waterloo, Ontario, Canada)
The Ever-Lovin' Jug Band plays original music inspired by the jug bands of the 1920s & 30s, plus many songs and instrumentals by the Memphis Jug Band, the Mississippi Sheiks, Harry Choates, and more.  They feature great vocals and vocal harmonies, banjolin, guitars, fiddle, kazoos, cello, jug, and washboard, in various combinations.  They're based in Ontario, Canada.
---