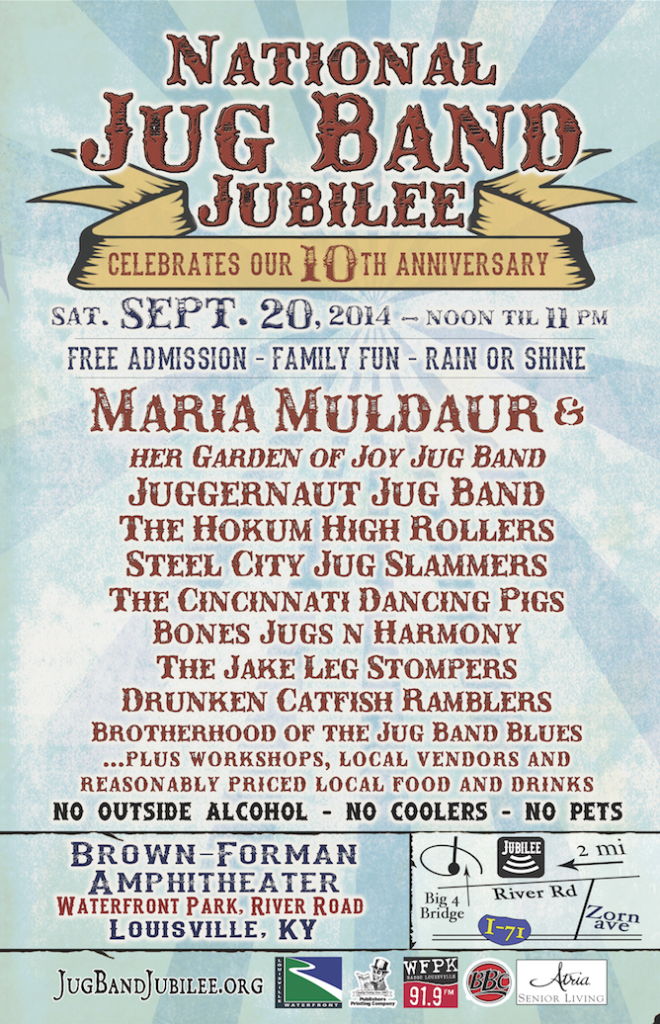 ---

Maria Muldaur & her Garden of Joy Jug Band
(Greenwich Village, NY)
Maria Muldaur is best known world-wide for her 1974 mega-hit "Midnight at the Oasis,"which received several Grammy nominations, and enshrined her forever in the hearts of Baby Boomers everywhere; but despite her considerable pop music success, her 50-year career could best be described a long and adventurous odyssey through the various forms of American Roots Music. During the folk revival of the early '60s, she began exploring and singing early Blues, Bluegrass and Appalachian "Old Timey" Music, beginning her recording career in 1963 with the Even Dozen Jug Band and shortly thereafter, joining the very popular Jim Kweskin Jug Band, touring and recording with them throughout the '60s.
In the 40 years since "Midnight at the Oasis," Maria has toured extensively worldwide and has recorded 40 solo albums covering all kinds of American Roots Music, including Gospel, R&B, Jazz and Big Band (not to mention several award-winning children's albums). She has now settled comfortably into her favorite idiom, the Blues. Often joining forces with some of the top names in the business, Maria has recorded and produced on-average an album per year, several of which have been nominated for Grammies and other awards. For her 2009 release, Maria revisited her original Jug Band roots, teaming up with John Sebastian, David Grisman and Dan Hicks. Maria Muldaur & Her Garden of Joy was nominated for Best Traditional Blues Album of the Year by the Blues Foundation, and garnered Maria her 6th Grammy nomination, as well.
---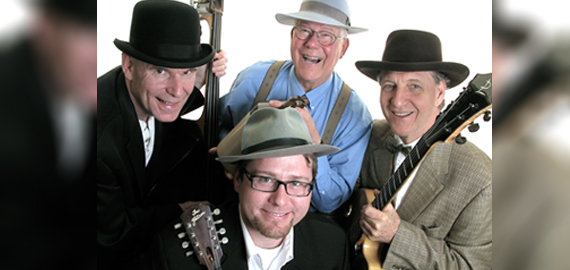 Juggernaut Jug Band 
(Louisville, KY)
What do you get when you blend jazz, blues ragtime, swing and original music with washboards, washtubs, kazoos, jugs and various other sundry hardware? Nothing less than the strange concoction called the JUGGERNAUT JUG BAND.
While members of the band are accomplished musicians, "They don't let virtuosity get in the way of having fun." (Washington Post) Each performance is a challenge to the audience to have as much fun as the band. Don't let their antics fool you though. Their exuberant music is the result of skillfully conceived arrangements and unique vocal harmonies.
---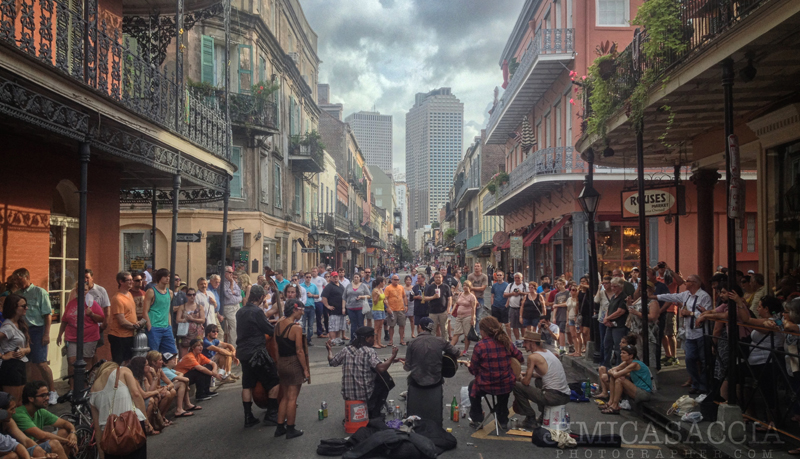 The Hokum High Rollers
(New Orleans, LA)
The Hokum High Rollers specialize in Pre-WWII Piedmont Blues, Ragtime, Hot Jazz and Western Swing played with the grit of their hometown, New Orleans and the energy of their punk rock roots. 'Hokum' has been honing there craft on the streets of the French Quarter to smoky bars, festival stages, private events, vaudeville showcases and everything in between since 2011. The groups first record 'Ease into It' can be listened to and downloaded at thehokumhighrollers.bandcamp.com
---
Steel City Jug Slammers
(Birmingham, AL)
Say hello to the Steel City Jug Slammers, a group of young musicians playing traditional and homemade instruments. Like juke-joint heroes of the early 1900s, they perform Delta blues and old-time jug music. In Birmingham, you might find the Steel City Jug Slammers busking at the fountain in Five Points South, or doing a late-night show at The Nick.
---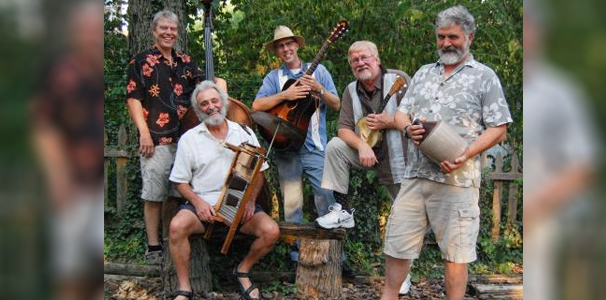 Cincinnati Dancing Pigs 
(Cincinnati, OH)
The Cincinnati Dancing Pigs are Cincinnati's premier Jug Band. They have been around since the early years of the Rolling Stones, have lasted longer than the Beatles and have more living members than the Grateful Dead. In the Cincinnati Enquirer they were once compared to the Julliard String Quartet, although not favorably. They have played at every Tall Stacks, at the Cincinnati Bicentennial Celebration, for the runners in the Flying Pig Marathon, many times in the summer concert series at the amphitheater in Eden Park, for the Art Museum, for a sit down dinner on the observation deck of the Carew Tower, and in many bars, back yards and living rooms throughout the area. From country club weddings to pig roasts to 4th of July parties, they have shamelessly wound up audiences at every variety of event.
---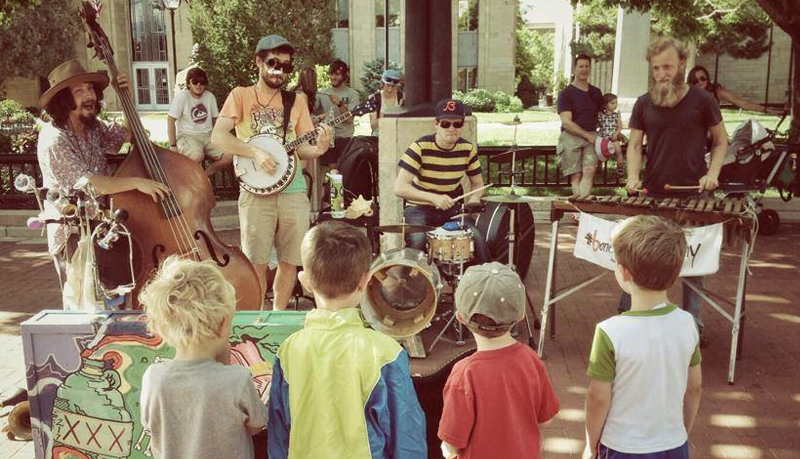 Bones Jugs N Harmony
(Urbana-Champaign, IL)
Bones Jugs N Harmony, a band from Urbana, Illinois, features bones, jug, xylophone, steel pan, banjo, resophonic guitar, upright bass, trap kit, all sorts of percussion toys, conch shell, donkey jaw and more to create their unique sound. The group offers a musical experience that can be enjoyed on street corners, in corn fields, on the beach, in a living room, amplified in a club, and just about anywhere else. A frenzy of frivolity. A marvel of merriment. A 21st century throwback to 1920's ragtime, a new-agey jugband twist, an inland-calypso-shake-up. In short, it's just loads of fun.
---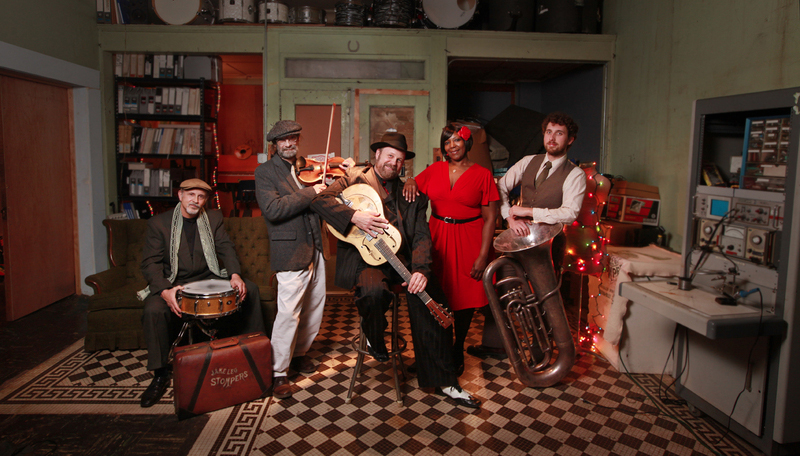 The Jake Leg Stompers 
(Knoxville, TN)
The Jake Leg Stompers evoke the rebellious spirit and colorful pageantry of American popular music before the Second World War, from the Memphis blues to the Virginia Reel; when jazz began, vaudeville was urgent and folk music was still dangerous.
From their headquarters in Bucksnort, Tennessee, the Jake Leg Stompers serve up tangy tastes of chicken-fried, pre-war, hokum-billy jug music to gourmet audiences everywhere.
---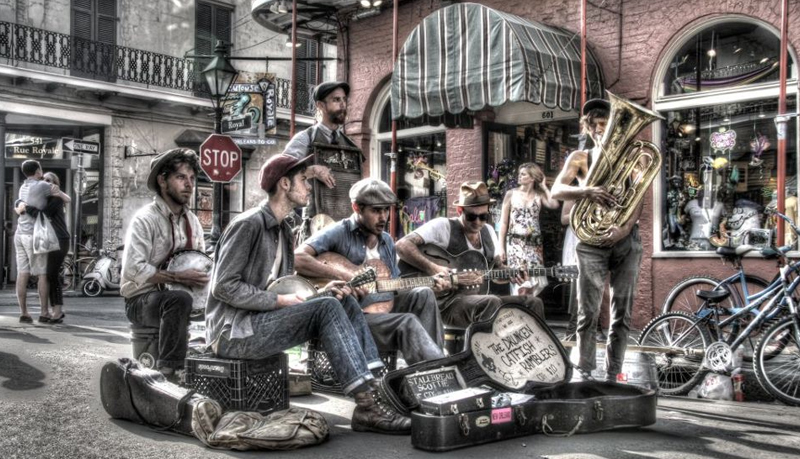 Drunken Catfish Ramblers
(New Orleans, LA)
The Drunken Catfish Ramblers are, at their core, a street band. Although young in years, they have a lifetime of collective experience playing the streets of the world, not to mention the stages of the Montreal and New Orleans Jazz Fests, Merlefest and more. They started years ago as a freight-hopping bunch of travelers swapping songs, bottles and stories as they made their way east from California. But New Orleans was destined to play host to their signature sound.
Their sets comprise a cross section of the best of American vernacular music, from delta blues to Appalachian stomps to early jazz and popular songs. The guitar and vocal interplay between Greg Sherman and "Stalebread" Scottie Swears can be as sweet as cider or cut like the dozens. Backed by the hypnotic drive of R.C.'s Hampton's washboard and the jug-based style of Robert Ayo's tuba, it's a potent combination. Mr. Gunn's accompaniment provides solid counterpoint, ragging and syncopating the lines with uncommon ease or laying down the melody line with uncanny accuracy. They treat every song like a mint condition 78, and so it's no surprise that they sound like it too.
---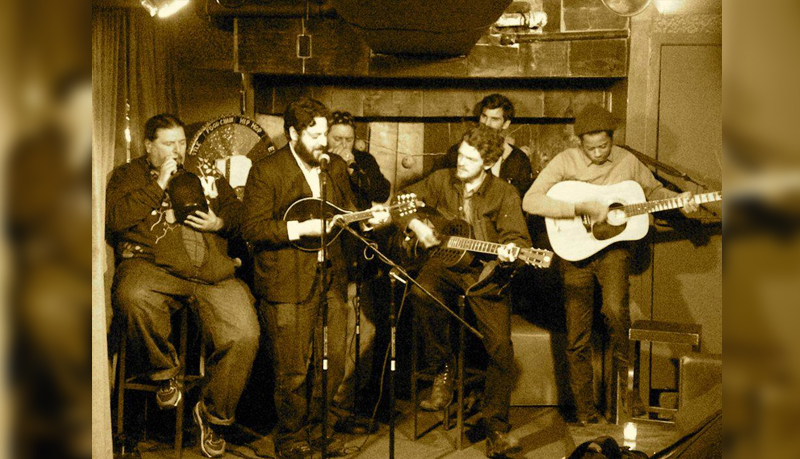 Brotherhood of the Jug Band Blues
(Brooklyn, NY)
The Brotherhood of the Jug Band Blues, or BroJug, is a Brooklyn-based collective of jug-band, country blues & old-time musicians dedicated to performing Jug Band Music both old & new that reflects not only our bygone rural tradition, but also our contemporary urban lifestyle. Great musicianship, good-time grooves & laid-back fun are hallmarks of BroJug's sound.
---
2014 Gallery –

Thanks for celebrating our




10th Anniversary

with us!